What are case studies and what is their impact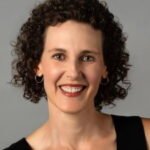 Andrea Haschart, graciously accepted to have a conversation with us and we are excited to share our conversation below.
Thank you for taking the time and share with us a little bit about yourself, your passion and your journey. Who is Andrea Haschart and what are you about in the world?
I'm a sales copy expert. I specialize in helping coaches and consultants increase their sales and conversions by writing powerful case studies that increase the know, like, and trust factor and shorten their sales cycle.
I take a unique approach to interviews, asking specific questions to uncover customers' true motivations for buying. I then share this valuable insight with my clients so they can hone their messaging and offers to maximize sales.
How did you end up becoming a sales copy expert focused on case studies?
I earned a marketing degree in college and worked for 10 years in several marketing positions. After my daughter was born, I wanted to stay at home and earn an income, so I took my first digital course and learned several skills to support online business owners.
My appetite for knowledge was insatiable, and I kept learning more and more skills. Eventually, I began helping my clients write sales materials, and that's when I found a course on writing case studies.
The course satisfied my passion for telling stories and selling. And it also helped me discover I loved interviewing customers. I have a knack for putting my clients' customers at ease, so they open up and share personal details about their experience using products and services that a business owner might never hear.
Savvy customers today want to see that others like them have had success with a product or service before they buy. My case studies capture and highlight powerful customer quotes and tangible results, giving prospects hope and proof of a genuine transformation.
During the case study process, I'm not only developing compelling sales material, but I'm also helping my clients refine their offers and sales messaging.
What exactly is a case study and how is it different from a customer review?
A case study is a detailed account of a customer's experience with a company's product or service. It tells a story of how one of the company's customers achieved a successful result or transformation with a product or service.
Case studies are more compelling and believable than a short customer review or testimonial because they are based on a customer interview and provide tangible results, customer quotes, numbers, and images. They follow a proven formula which shows customer challenges, the exact steps to the solution, and a transformational result.
Professionally written and designed case studies are a powerful marketing asset that businesses can use to attract new customers and increase sales. They also provide juicy content that, when split up into pieces and repurposed, will continue to sell for years to come.
What is something you discovered while crafting brilliant case studies but never thought of at the beginning of your career?
When I interview existing happy customers and write a case study, I'm helping business owners uncover the reasons customers buy and useful information about their competitors. I also uncover gaps in the sales process and give this information to my clients, which they can use to improve their offers and sales messaging to attract even more customers and increase sales in the future.
Once a business owner has a case study, how can they use it for the biggest impact?
They can maximize the impact and ROI by repurposing it into various mediums. Here are some ideas to get you started:
Feature case studies on website pages (home, product & services, and case studies)
Incorporate case studies into email marketing campaigns and newsletters
Use case studies as an opt-in for email list subscribers
Include case studies in company email signatures
Create white papers based on case studies
Use case studies in blog and social media posts
Present case studies in webinars, podcasts, and videos
Include case studies in sales presentations and pitches
Showcase case studies at events, conferences, and meetings
What are the biggest mistakes you've seen in other case studies?
A headline that fails to capture readers' attention with numbers or results
A lack of subheads to guide readers through the content and summarize sections
Deviation from a proven formula or narrative arc
Wordy blocks of text that overwhelm readers
An absence of a clear call to action to provide readers with the next step
A lack of tangible results presented in a concise bullet list or infographic
No direct quotes from the customer to further validate the case study
No picture of the customer to lend credibility to the study
Poor design with no allowance for white space
Who has been your most influential mentor and why?
When I was a stay-at-home mom, I stumbled upon The Lively Show podcast hosted by Jess Lively, a jewelry designer-turned-online entrepreneur selling digital courses on personal development.
She taught me about living with intention and other woo topics, like manifestation and flow. Plus, her interviews with online business owners who shared their backstories and successes inspired me to pivot my marketing skills into the online space.
Jess taught me the most valuable lesson of all: "just keep going, you can't fail if you keep going." Even after she went through a divorce and sold everything to travel the world, her advice continues to motivate me, especially when things get tough and I feel like giving up on my business